NOISY VALVE LIFTER PROBLEM ON THE 1956 GOLDEN HAWK
By Frank Ambrogio
I bought my 1956 Golden Hawk in October, 1983, and had the Packard 352" V-8 engine rebuilt in early 1984. Since the rebuild, there was an intermittent valve lifter noise problem with the hydraulic lifters. After having the engine rebuilt, installing a second set of lifters, installing new push rods and rocker arms, the problem remained. I wrote to Dwain Grindinger of the Studebaker Drivers Club,who sent Service Bulletin #314. This item explained that Service Letter #936 (which Dwain did not have) contained information on an oil pump relief valve tube kit identified as part number 6484613.
I contacted Phil Brown of Phil's Studebaker parts who contacted the Studebaker Museum and their combined efforts produced Service Letter 936. After my letter to Dwain, and his answer appeared in Turning Wheels' "The Studebaker Cooperator", Richard Quinn (Almanac Editor), and William Stroud of Barrien Springs, Michigan, also sent me copies of Service Letter 936. Jim Maxey of Chandler, Arizona wrote and suggested running with the oil 1 quart over full and using Plymouth 318" valve lifters. I also received a call from Gary Siess of Dover, New Jersey who offered several alternatives.
I purchased the kit from Packard Farm and I had the kit installed on the oil pump. Although it made an improvement, it did not solve the problem.
While at the meet in Estes Park, I spoke to Robert Dietzler of Simi Valley, California who had solved a similar problem with his 56 Golden Hawk. Bob sent me information from Packards International Motor Car Club of Santa Ana, Ca.
Packards International claimed that the problem was an inferior oil pump whose shaft was not properly designed to utilize a bearing causing the shaft to wobble and suck air into the oil stream. They also discovered that the pot metal cover plate on the bottom of the pump would swell under high speed operation thus allowing more air to be sucked in. They offered a redesigned pump to their members which they sold on an exchange basis.
I decided to buy the Packards International oil pump but I didn't want to give up my old pump and wait for the new one to arrive. I began searching for another oil pump and what follows is the real reason for this story.
I checked my Hollander parts interchange manual and discovered there were two Packard oil pumps. Part number 6480508 was for the Packard 352" engine and part number 440729 was for all Packard V-8s except the 352" engine. This was the first time I had found a 56 Golden Hawk engine part that was different from a Packard V-8 engine part.
I began comparing pictures and part descriptions from my Studebaker and Packard parts books and found two differences. My oil pump had a flat plate on the bottom while the Packard had a larger plate. The Packard also had one part that my pump didn't have. It was listed as DRIVER - VACUUM PUMP.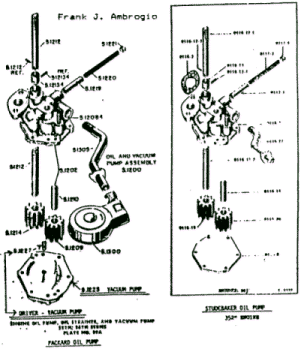 After speaking with Joel Ray of Patrician Industries in Dearborn, Michigan, I discovered that the Packard had vacuum operated windshield wipers and therefore the larger bottom plate I had seen on the picture of the Packard oil pump was actually a VACUUM PUMP.
As I stated earlier, I had the engine rebuilt a few months after I bought the car in 1983 and suddenly I could vaguely remember the mechanic making some comment indicating that he had misplaced the oil pump. Could he have possibly put on another oil pump with a vacuum pump on it?
I checked my bill and found oil pump among the parts listed. Now, if the problem was air in the oil, and if my car had an oil pump with a vacuum pump on it, and the vacuum pump wasn't connected to anything, I reasoned that possibly the oil pump had been my problem all along.
I bought the Packard International oil pump which has a 3/4" bottom plate in place of the vacuum pump (the Golden Hawk pump had a 1/4" bottom plate). This bottom plate solved the problem of flexing at higher speeds, but I don't know what the Packard people do about their wipers. The oil pump that was taken off my Golden Hawk was, in fact, the one with the vacuum pump on the bottom. I have not heard any lifter noise since the new oil pump was installed.
Obviously the oil pump was the problem. I don't know if the vacuum pump was letting air in the system or if the pump was just bad to begin with, but after a 5 year battle, it was sure nice to be able to drive my car more than 20 miles. If you are having a similar problem with your 1956 Golden Hawk, or to learn more about Packards International Motor Car Club and their products, contact:
Packards International Motor Car Club


302 French St.
Santa Ana, California 92701
714-541-8431
Here is Packard's International story (from 1999) on the oil pump modification. Prices are subject to change:

PACKARD V8 ENGINE PROBLEMS
For many years, hydraulic lifter clatter and bearing failure has plagued the Packard V8 owner. This has been such a common complaint that very, very few V8 owners have not experienced this failure.
After two years research and analysis, we have discovered that these problems are due to one culprit-an inferior oil pump! The original pump carried superior pressure and volume; but, since the pump's shaft was not properly designed to utilize a bearing, the shaft began to wobble thus sucking air into the oil stream. In addition, under laboratory check, it was discovered that the pot metal cover plate on the bottom of the oil pump would swell under high speed operation thus allowing more air to be sucked in. These problems have occurred as low as 25,000 miles, but usually become very serious at approximately the 75,000 mile range.
The oil system within an engine is similar to the blood in our bodies in that it cannot dissipate the amount of air being introduced into the oil system allowing them to collapse causing extreme clatter. Ignoring this problem can result in severe valve problems with the top of a valve being knocked off and in turn, will ruin the piston and/or engine block.
Crankshaft bearings, both rod and main, gradually become worn out due to the volume of air mixed in with the oil. This results in lowered oil pressure which compounds the problem as well as ruining the crankshaft itself. All of the above problems are entirely due to the faulty oil pump. Beyond that, there is absolutely nothing wrong with the Packard V8 engine either in design, engineering or its ultimate longevity.
Packards International is proud to re-introduce their redesigned oil pump to their members. These pumps have been produced to eliminate the problems indefinitely. The pumps are re-designed not rebuilt, we do not replace the gears. If we find the gears in the pump show any wear or are in bad shape we will get in touch with you before we do anything to the pump.
We need the pump out of your car, we actually redesign your pump and return it within 2 days after receipt of same.
CAUTION: Merely changing your oil pump will not necessarily eliminate your problems. Since your hydraulic lifters, rod/main bearings and, quite likely, your crankshaft are already in poor condition, just changing your oil pump will not put your engine in perfect condition! All these items must, in nearly all cases, be renewed plus the application of the redesigned oil pump in order to have assurance of possessing a truly fine engine that will yield untold thousands of miles of driving pleasure.
TO ORDER THE RE-DESIGNED PUMP, SEND YOUR PUMP AND CHECK FOR $130.00 to:
PACKARDS INTERNATIONAL
302 FRENCH ST.
SANTA ANA, CA 92701
This amount includes return UPS charge, if you wish next day air or 2nd day air, add the appropriate amount.